Interview with Local Author: RJ McDowell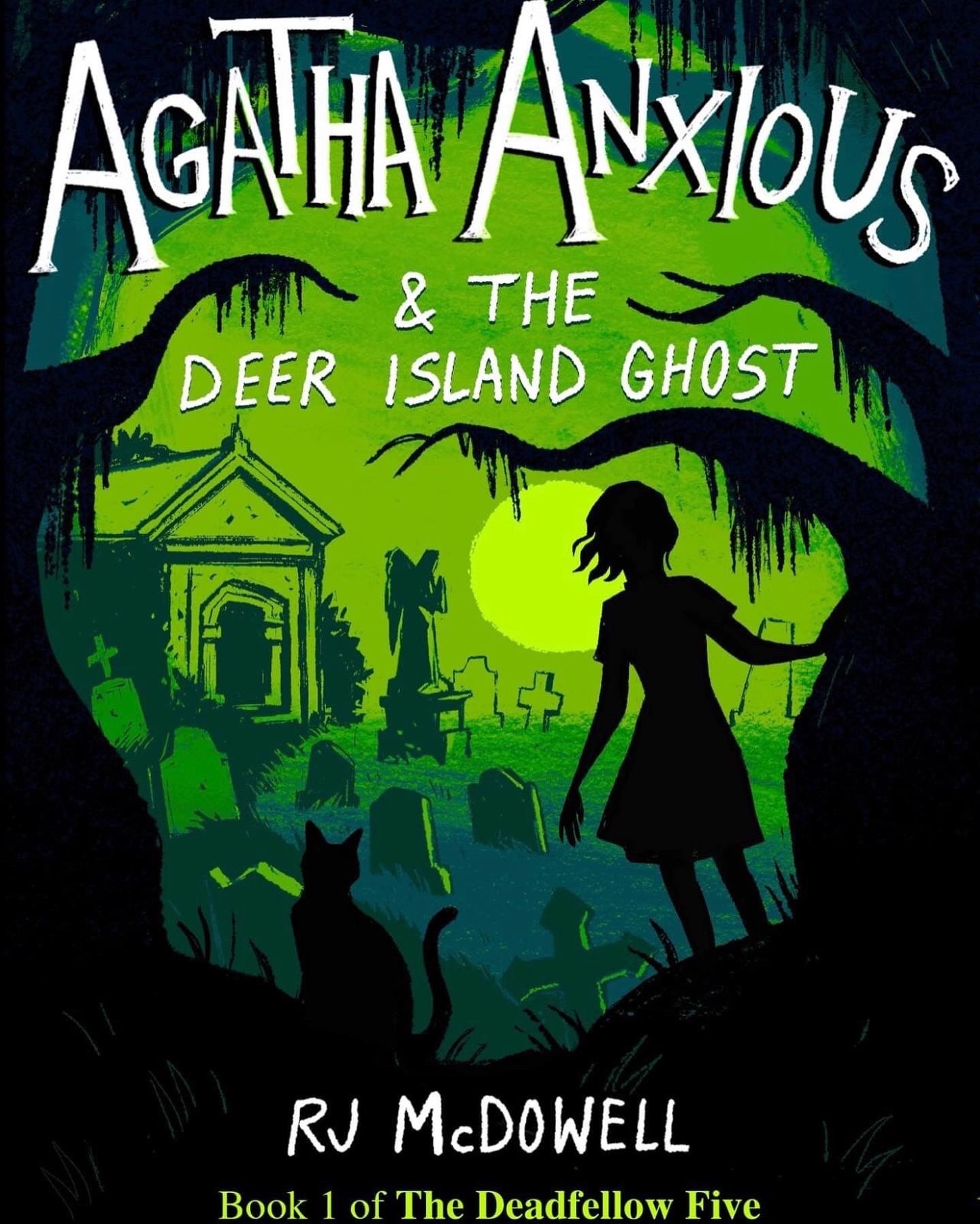 ---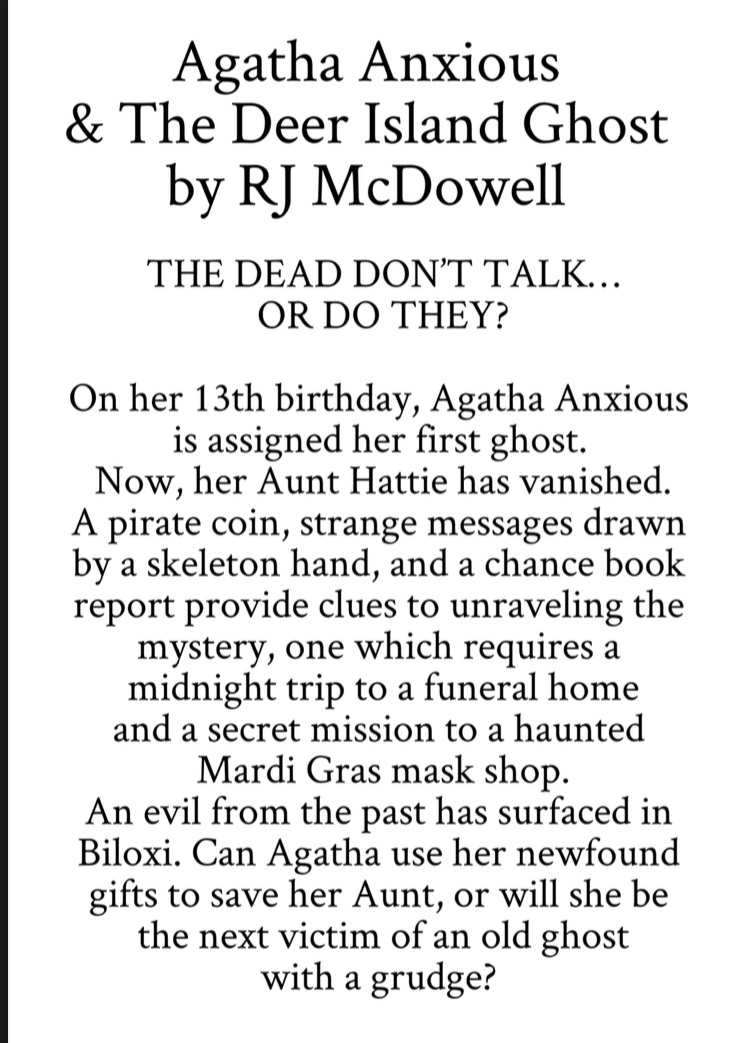 Local author, RJ McDowell, now calls Spanish Fort, Alabama her home, but her inspiration for her debut novel, Agatha Anxious & The Deer Island Ghost, is 70 miles west of here, in Biloxi, Mississippi. McDowell grew up in Biloxi, and credits both her vivid imagination and love of all things spooky to her hometown which is also the setting of the novel. Agatha Anxious & The Deer Island Ghost is book one of The Deadfellow Five series and is a middle-grade and/or young adult book. Middle grade and young adult books range in age for readers age 8 to 19, but often are read by readers of all ages that love a good story and a certain author's style. Recently we sat down with local author RJ McDowell to find out more about her the inspiration behind Agatha Anxious and her reading and writing secrets. Here is what we learned.
What was your inspiration for Agatha Anxious and the Deer Island Ghost?
Three years ago, I wrote a children's Christmas book with my dad, who's an
artist, and he illustrated it. While it was a fun collaboration, I decided to write what
I truly love to read: scary/spooky things. I'm originally from Biloxi, MS, and that
area is rich with ghost stories. So, for my series, The Deadfellow Five, I decided
to take an actual ghost story from the Mississippi Gulf Coast and use it for each
book (tweaking it just a little bit to fit my story). So, for instance, the first book in
my series, Agatha Anxious & the Deer Island Ghost, deals with the Deer Island
Ghost, which is a real-life ghost story in Biloxi.
Describe your ideal reading experience.
A candlelit room, comfy chair or couch, soft blanket, cup of coffee and a storm
outside. And reading something scary, of course.
Describe your ideal writing experience.
Nearly the same as my ideal reading experience. I write in the dark, by
candlelight usually in a small room in my house. My closet, on my bed with a lap
desk, etc. Somewhere enclosed and quiet.
What kind of reader were you as a child? Which childhood books and authors
stick with you most?
Avid. I was always part of the summer reading book club at the library, which was
within walking distance of my childhood home. I even volunteered there a couple
summers. Generally, you'd set a goal as to how many books you'd read each
summer and try to meet it. I loved the library and still do.
Of course, the authors that made the biggest impact on me as a kid were the
spooky stories or the stories that created emotion inside of you. Bridge to
Terabithia was one I thought about for a long time (sad). Scary Stories to Tell in
the Dark was one that stayed with me forever! Super creepy, especially the
illustrations. I strive to be exactly like that author, Alvin Schwartz. I want to be the
author that makes you check your closet and under your bed at bedtime.
Did you visit your local public Library as a kid? If so, which one?
West Biloxi Library, mostly. Or the main Biloxi Library. Both were fabulous.
What advice do you have for young writers out there (or not so young) if they are
interested in writing and are not quite sure how to get started or what to do next?
Like Nike says, "Just Do It." A lot of times, you can write something and be filled
with self-doubt. Is this good enough? Should I keep going? Just. Keep. Going.
Keep writing. SOMEONE out there will love it. There is a reader out there just
waiting for you.

Is there a book you might want to read again for the first time?
Each year I try to reread In Cold Blood, by Truman Capote. Such a harrowing
read and I love his writing style. He's my favorite author.
What are you working on now?
The second book in The Deadfellow Five series, which doesn't have a name just
yet, but is even creepier than the first! I've had to walk away from it a couple
times.
What is the latest piece of art, music, literature, (music, movies, tv, more
traditional artforms) that you've experienced or that has impacted you?
I recently read Anthony Doerr's All the Light We Cannot See. What a beautiful,
meaningful story; it's a bit hard to put into words. Doerr's writing style is so fluid
and lovely. He said it took him ten years to write the book, so it's definitely
motivation for when I have writer's block (yes, that's a real thing!) to just keep
going. Keep writing.
What do you read when you are working on a book?
Absolutely nothing. I generally have to read and reread and rework my own book,
so, I just don't have time for other things (my brain capacity is small sometimes,
and I can get tunnel vision). So, I wait until I've completed a book and have no
other commitments to sit and read.

Have your reading tastes changed over time?
Not really. I've always liked scary stories and I've always liked books that make
you FEEL something. Books that stay with you long after the last page.
You are hosting a dinner party. What three authors (dead or alive would you
invite to your event?)
Truman Capote (favorite author). A.E. Housman (favorite poet). Alvin Schwartz (see why above!).
McDowell's novel was released in September 2022 and is available just in time for Halloween. Visit the Baldwin County Library Cooperative shared catalog www.baldwincat.org and reserve it today.